HiRoad Road Trip for Good: an Arizona drive worth taking
December 13, 2022
As a larger initiative to create ripples of good in our communities, HiRoad created Road Trip for Good in Arizona. A kind of road trip to not only share the message of HiRoad, but also to give folks an opportunity to help raise funds for the Arizona Food Bank Network.
Why HiRoad drove across Arizona
As a brand, HiRoad wants to create meaningful and memorable experiences within our communities that bring our values—community and giving back—to life. As an auto insurance company in Arizona, we feel that our commitment to community and creating ripples of good make us different—in a good way! We're proud to work with individuals and organizations that help make a difference in their communities through activities like charitable giving and volunteering. 
In Arizona, we participated in local events in Flagstaff, Fountain Hills, Scottsdale,
Tucson
and
Phoenix
to participate in our Mindful Memory game, which centered around rewarding mindful or good decision making.
The reward? For every match made by participants, HiRoad donated $.50 to the Arizona Food Bank Network. In our road trip across The Grand Canyon State, HiRoad connected with locals to engage, play and donate funds in order to help families gain access to food.
How kindness ripples and helps drive good moments
A big reason we hit the road in Arizona? To keep up with our mission to share ripples of good through positive participation in the communities we serve. During our visits to events like Phoenix Pride and NAU football games, folks came up to the HiRoad tent left and right - ready to have a little fun and do a lot of good.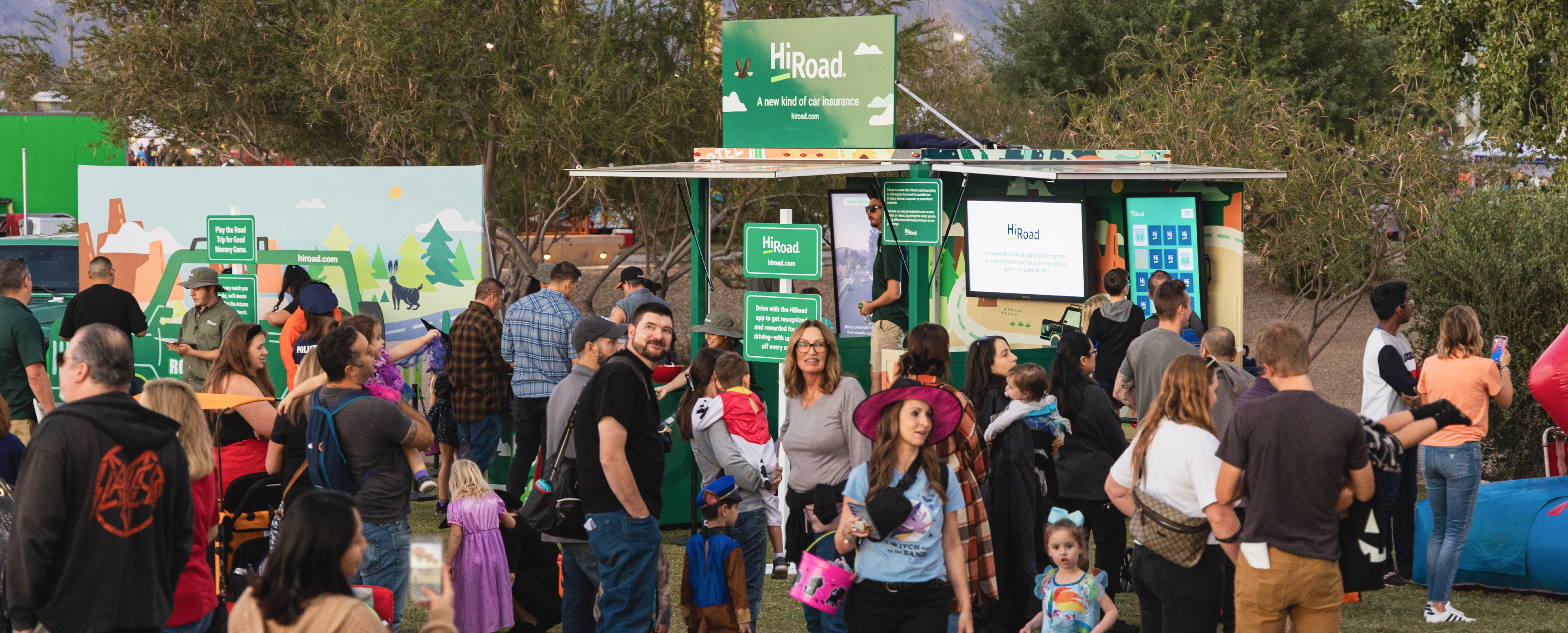 Folks who visited us at the HiRoad tent weren't enticed by the "free thing," they were in it for the opportunity to give back—which fueled our road trip and we were able to give a generous donation to the Arizona Food Bank Network.
Kindness can offer a wide range of benefits and on the Road Trip for Good, we were impressed by the level of generosity the Arizona community has for others. Those moments of goodness can influence those around you and help make the world a better place.
Our Road Trip for Good was one more effort to keep good going. We look forward to more opportunities to engage with our Arizona customers and future customers on the HiRoad journey.
Share your email to get the latest about our community of mindful drivers.